Seattle CityClub and Crosscut present
Civic Cocktail
Year in Review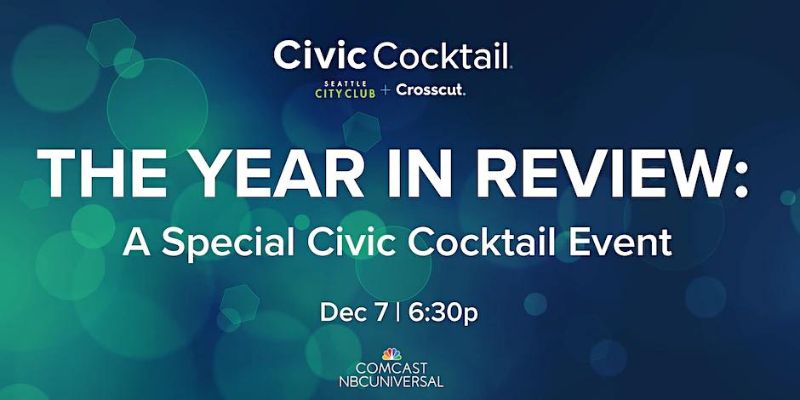 Description:
At Civic Cocktail's Year in Review, look back at the biggest issues and major stories that defined our civic life in 2022. From the future of democracy to war and geopolitics, homelessness, equity, and the economy — a panel of thought-leaders join us to reflect on all we've seen and predict what will happen in 2023.
Panelists
Ann Davison, Seattle City Attorney
Other panelists to be announced soon!
Moderator
About Civic Cocktail
Civic Cocktail connects elected and community leaders with the public for lively conversations about important issues facing our region. Whether you're new to the Pacific Northwest, a self-described "civic nerd," or looking to meet people engaged in their communities, your evening at this beloved program is sure to be friendly, fun, and fascinating. Civic Cocktail's welcoming and conversational tone is inspired by their Dialogue Across Differences initiative. Join in person, where the conversation happens over tasty bites and festive libations, or enjoy the experience wherever you are by watching virtually.
About Seattle CityClub
Seattle CityClub is a 40-year-old nonpartisan, civics-focused nonprofit, providing a platform for insightful and educational conversations that include a diverse range of perspectives.
About Crosscut
Crosscut.com is a nonprofit, publicly supported newsroom. It is part of Cascade Public Media, which also owns and operates KCTS 9, Seattle's PBS station. Cascade Public Media serves the Pacific Northwest and its mission is to inspire a smarter world by committing to exceptional public television programming and local public interest journalism.
---
Presented by CityClub and Crosscut.