Town Hall Seattle and Grist present
Christiana Figueres and Tom Rivett-Carnac with Brady Walkinshaw (livestream)
The Stubborn Optimist's Guide to the Climate Crisis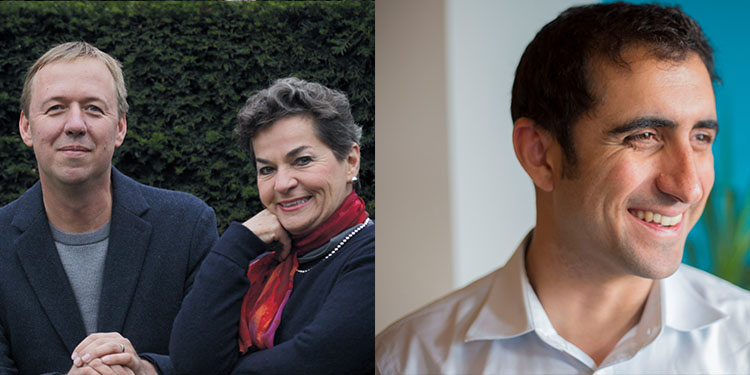 In 2015, the United Nations gathered for the annual United Nations Climate Change Conference. What resulted is arguably the most significant global agreement on the reduction of climate change: The Paris Agreement. On Earth Day 2016, 174 countries signed the agreement, including the United States (which withdrew in 2020 but officially rejoined in February). But what exactly does the Paris Agreement do? And what are the consequences if those ambitious goals are not attained?
Two leaders on climate change who led the negotiations, Christiana Figueres and Tom Rivett-Carnac join us via livestream in conversation with Grist's Brady Walkinshaw to answer those questions, and more. Asserting that climate change is the most urgent and consequential issue humankind has ever faced, they share from their book The Future We Choose: The Stubborn Optimist's Guide to the Climate Crisis about how the choices we make in the next 30 years will determine the kind of word we will live in for generations to come. With cautious optimism, they outline two possible scenarios for our planet: one that describes Earth in 2050 if we fail to meet the Paris climate targets, and the other where we live in a carbon neutral, regenerative world. They advocate for confronting the climate crisis head-on, with determination and optimism. Beyond imagining three decades into the future, they present actionable calls for what governments, corporations, and each of us can and must do to fend off disaster.
Christina Figueres is an internationally recognized leader on climate change. She was Executive Secretary of the United Nations Framework Convention on Climate Change (UNFCCC) 2010-2016.She successfully directed the international negotiations from 2010, culminating in the historic Paris Agreement of 2015, signed unanimously by 195 countries. Together with Tom Rivett-Carnac she is a founding partner of Global Optimism, a purpose driven enterprise focused on social and environmental change and host of the podcast Outrage + Optimism!.
Tom Rivett-Carnac is a leader in the fields of international diplomacy, energy policy, and climate change. From 2013 to 2016, Rivett-Carnac was Senior Strategy Advisor to the Executive Secretary of the UN Convention on Climate Change, Christiana Figueres, a position he held up to and during the successful negotiations in Lima (COP 20) and Paris (COP 21), which resulted in the unanimous signing of the Paris Agreement. Together with Christiana Figueres, he is a Founding Partner at Global Optimism, a purpose driven enterprise focused on social and environmental change and co-host of the podcast, Outrage + Optimism!
Brady Piñero Walkinshaw is the CEO of Grist, a leading national environmental media nonprofit dedicated to climate, justice, and solutions. Grist reaches an audience of millions with vital journalism and Fix, Grist's Solutions Lab, lifts up the leaders and the ideas to solve the climate crisis. Before joining Grist in 2017, Walkinshaw represented central Seattle in the Washington State Legislature and spent several years at the Bill & Melinda Gates Foundation.
---
Presented by Town Hall Seattle and Grist.