Charlotte Coté with Dana Arviso
Stories of Indigenous Food Sovereignty from the NW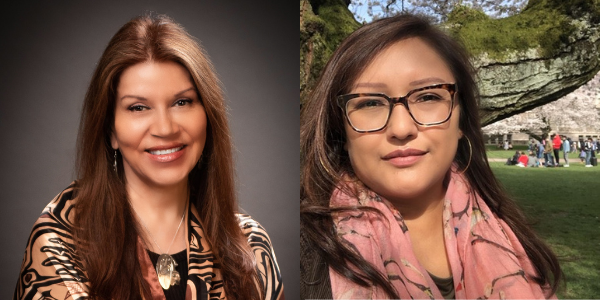 In the dense rainforest of the west coast of Vancouver Island, the Somass River (c̓uumaʕas) brings sockeye salmon (miʕaat) into the Nuu-chah-nulth community of Tseshaht. C̓uumaʕas and miʕaat are central to the sacred food practices that have been a crucial part of the Indigenous community's efforts to enact food sovereignty, decolonize their diet, and preserve their ancestral knowledge.
In A Drum in One Hand, a Sockeye in the Other, Charlotte Coté shares contemporary Nuu-chah-nulth practices of traditional food revitalization in the context of broader efforts to re-Indigenize contemporary diets on the Northwest Coast. Coté offers evocative stories — rooted in her Tseshaht community and in her own work — to revitalize relationships to haʔum (traditional food) as a way to nurture health and wellness. As Indigenous peoples continue to face food insecurity due to ongoing inequality, environmental degradation, and the Westernization of traditional diets, Coté foregrounds healing and cultural sustenance via everyday enactments of food sovereignty: berry picking, salmon fishing, and building a community garden on reclaimed residential school grounds.
Charlotte Coté (Tseshaht/Nuu-chah-nulth) is Associate Professor of American Indian Studies at the University of Washington, and has been teaching in AIS since 2001. Dr. Coté holds a Ph.D. and M.A. in Comparative Ethnic Studies from the University of California at Berkeley and is Affiliated Faculty in the UW's Jackson School Canadian Studies Center. Dr. Coté serves as co-editor for the UW Press' Indigenous Confluences series and is the author of Spirits of Our Whaling Ancestors: Revitalizing Makah and Nuu-chah-nulth Traditions (UW Press, 2010).
Dr. Coté is chair of the UW's wǝɫǝbʔaltxʷ (a Lushootseed word meaning "Intellectual House") Advisory Committee. She is also co-founder and chair of the UW's annual "The Living Breath of wǝɫǝbʔaltxʷ" Indigenous Foods Symposium held in May at the wǝɫǝbʔaltxʷ. Dr. Coté serves on the Board of Directors for the UW's Center for American Indian/Indigenous Studies (CAIIS), the Burke Museum's Native American Advisory Board, the Na-ah Illahee Fund Board, and the NDN Collective (Northwest Coast Representative). She also served on the Potlatch Fund Board of Directors, and for seven years served as President.
Dana Arviso is an enrolled member of the Navajo Nation and grew up on the Bishop Paiute-Shoshone Indian Reservation in California. Dana proudly commits herself to improving the lives of youth, families, and communities through education and working for social improvements within the fields of education and philanthropy.  She previously served as the Executive Director of Potlatch Fund, a Native American-led foundation. Dana has served on the boards of Social Justice Fund Northwest, Native Americans in Philanthropy, American Indian Graduate Center, and 501 Commons. She also serves on the planning committee for the Living Breath of wǝɫǝbʔaltxʷ: Indigenous Foods Symposium alongside Dr. Coté. She is currently a doctoral candidate in the UW College of Education.
---
Presented by Town Hall Seattle.