In The Moment Podcast, Ep. 115
Britni de la Cretaz & Lyndsey D'Arcangelo with Maggie Mertens
Hail Mary: The Rise and Fall of the National Women's Football League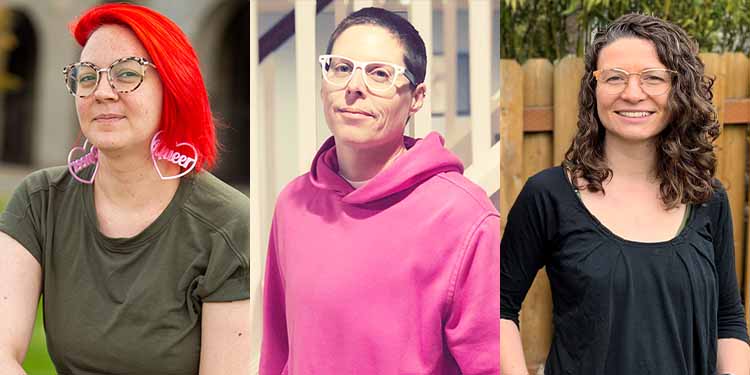 American football emerged in the last decades of the 19th century; today it is the most popular sport in the country, watched and played by millions of people — and at the professional level, generating billions of dollars in revenue — each year. While women's involvement in football has grown in more recent years, it is historically a sport played almost exclusively by men. But in 1967, a Cleveland businessman had an idea to start an American football league for women. Was it a publicity stunt to garner attention and entertain folks, much in the vein of the Harlem Globetrotters? Or was it something more?
In their book Hail Mary, authors Britni de la Cretaz & Lyndsey D'Arcangelo share the little-known story of the players behind the National Women's Football League that had a brief but bright life in the early 1970s. Hail Mary introduces us to the hard-playing, passionate women athletes who comprised teams like the L.A. Dandelions and the Toledo Troopers, names that most of us have never heard before. In the 115th episode of Town Hall's In the Moment podcast, Maggie Mertens interviews de la Cretaz and D'Arcangelo about the players who transcended a gimmick with grit, tenacity, and pure athleticism.
Britni de la Cretaz is a freelance writer who focuses on the intersection of sports and gender. They are the former sports columnist for Longreads and for Bitch Media. Their work has appeared in the New York Times, Rolling Stone, espnW, Vogue, The Washington Post, Teen Vogue, The Ringer, Bleacher Report, The Atlantic, and more. Their work on racism in Boston sports media received the 2017 Nellie Bly Award for Investigative Journalism from the Transformative Culture Project, and that story was also a Notable Story in the 2018 Best American Sports Writing. Their writing on the queer history of women's baseball for Narratively was nominated for a prestigious baseball writing award, the 2019 SABR Analytics Research Award.
Lyndsey D'Arcangelo writes about women's college basketball and the WNBA forThe Athletic. Her articles, columns, and profiles on female/LGBTQ+ athletes have previously appeared in The Ringer, Deadspin, espnW/ESPN, TeenVogue, The Buffalo News, The Huffington Post, NBC OUT, and more. She received a Notable Mention in the 2018 Best American Sports Writing anthology for her story, "My Father, Trump and The Buffalo Bills."
Maggie Mertens is a writer, journalist, and editor located in Seattle. Her essays and reporting have appeared in The Atlantic, NPR, ESPNw, The Guardian, Deadspin, VICE, Glamour, and others. Her work has been anthologized in Women and Sports in the United States, and is forthcoming in The Year's Best Sportswriting 2021. She edits and writes a regular column on sports and gender for The South Seattle Emerald.