Scandiuzzi Krebs presents
Bleak! Songs for the Not-Quite End of the World
With John Coons and Matt Aument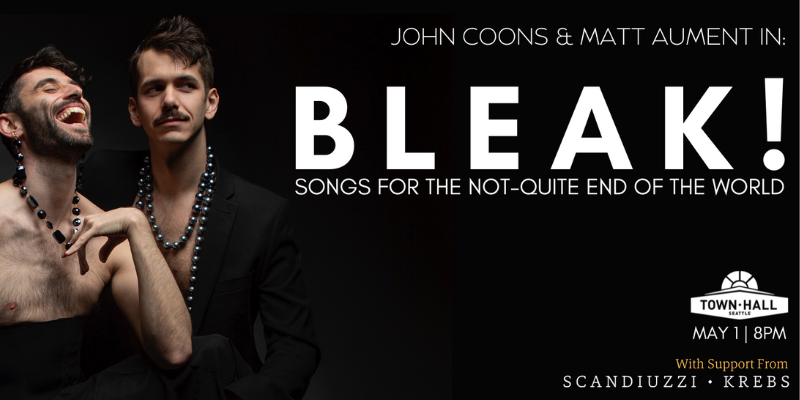 Cabaret duo John Coons and Matt Aument invite you to escape the barren hellscape of your life and join them on their journey through a jazzier, more-glitter-filled apocalyptic wasteland! A wickedly sharp and satirical song cycle, BLEAK! gleefully skewers the plethora of ways that we're all trying (and failing) to meet the present moment. Come find out just how much fun giving up all hope can be!scandiuzzikrebs.com/bleak/JOHN COONS (he/they) is a singer-actor based in New York City. He has performed with the Seattle Opera, Seattle Symphony, Boston Symphony POPS, Pittsburgh Symphony, Atlanta Symphony, and has sung the National Anthem for the Boston Red Sox. He's shared the stage with popular acts Ben Folds, Foreigner, and Joshua Bell and made his Broadway stage debut singing in the memorial of Jerry Herman. Favorite roles include Pirelli in Sweeney Todd, Zangara in The 5th Avenue Theatre's production of Assassins, Oswald in Ibsen's Ghosts, and the Scarecrow/Mrs. Pentstemmon in the musical adaptation of Howl's Moving Castle. Quickly becoming a fixture on the NYC cabaret scene, he's performed at Joe's Pub, The Green Room 42, The Duplex, Club Cumming, and Don't Tell Mama, though many young New Yorkers would recognize him as Dr. Theremin on WNET's Let's Learn. In Seattle, John has performed with The 5th Avenue Theatre, Village Theatre, ACT, ArtsWest, and the 14/48 Projects. Upcoming this season: Sweeney Todd at The 5th Avenue Theatre, his cabaret show, Nocturnal Omissions in venues across the country and Mexico, and his original song cycle BLEAK! At The Green Room 42 and Seattle Town Hall.MATT AUMENT (he/him) is a music director and orchestrator. In cabaret settings, he frequently performs with Molly Pope (… a Gay Man & a Piano, Polly Mope) and Seth Sikes. Theatrically, Matt's credits include music directing the Barrow Street production of Sweeney Todd, orchestrations for We Are The Tigers off-Broadway, and new arrangements for the Broadway revival of Gigi.
(And wear something fun. It's the end of the world, after all.) Seattle Theatre treasure and star in the recent Broadway revival of 1776, Sara Porkalob will have a guest feature, singing a solo and duet in the show. For more information visit 
---
Presented by Scandiuzzi Krebs. For questions about this event, please reach out to megan@scandiuzzikrebs.com.