Town Hall Seattle and The Riveter present
Blair Imani
Modern HERstory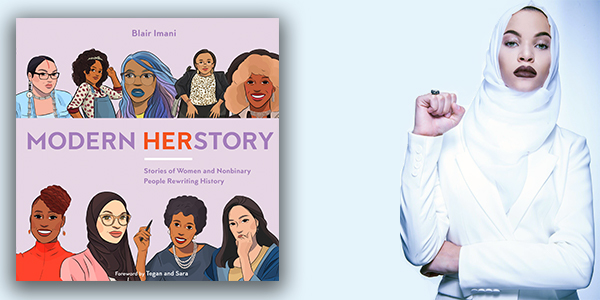 Despite making huge contributions to the liberation movements of the last century, numerous trailblazers of progress are traditionally overlooked due to their backgrounds and communities of origin. To shine a light on these under-celebrated individuals, activist Blair Imani comes to Town Hall to share stories from her book Modern HerStory, highlighting change-makers who are women, people of color, queer people, trans people, disabled people, young people, and people of faith. Imani meets with Marissa Johnson, who lends her perspective as an organizer and supporter of Black activists. Together they offer us a radical and inclusive approach to history, profiling and celebrating 70 women and nonbinary champions of progressive social change. Join Imani and Johnson to hear the under-recognized but equally-important stories of the leaders and movements that have altered the course of history and are still changing the world today, from the Civil Rights Movement and Stonewall riots through Black Lives Matter and beyond.
Blair Imani is an author, activist, and is the founder and executive director of Equality for HER, a nonprofit educational platform for women and nonbinary people. Blair has been honored as part of the Logo30 by Logo TV, #Woke100 by ESSENCE, and as one of 25 Gen-Z'ers creating change in the world by NYLON.
Marissa Jenae Johnson is a Seattle based activist, educator, and philanthropist. She uses her background as an organizer to help support Black activists on the ground, while working to educate potential allies through The Phoenix Fighter.
---
Presented by Town Hall Seattle and The Riveter.
Privacy Policy Note:
For this event, ticket buyer contact info may be passed on to The Riveter.