Town Hall Seattle and the Seattle Office for Civil Rights present
Rev. Ben McBride with Marcus Harrison Green
Radical Belonging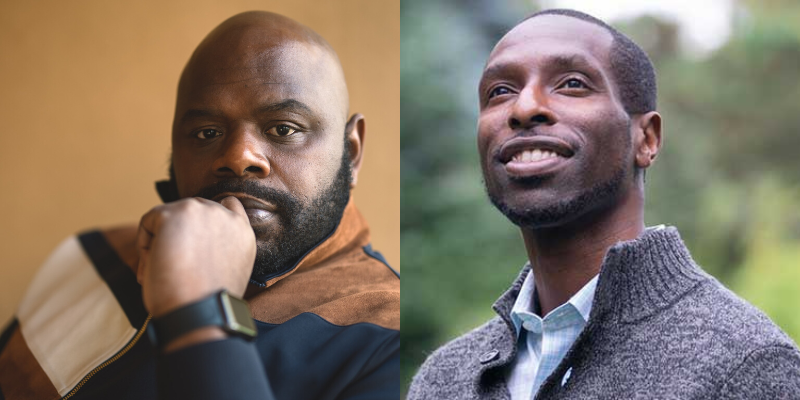 What if the revolution isn't about what we need to do, but who we need to become to create a world where everyone truly belongs?
Activist and speaker Rev. Ben McBride knows what it's like to wade into conflict in order to stir up the truth. From the Kill Zone in Oakland, where he moved with his young family, to the uprising in Ferguson, to the moral impoverishment of the white evangelical church, he's confronted the injustices that threaten to drown us all.
McBride shares his insight on navigating murky, confusing, and even dangerous times in his new book Troubling the Water. In the truth-telling tradition of Bryan Stevenson and Bishop William Barber, he offers a steady, guiding voice along the path to genuine healing. As inequalities weaken our lives, well-meaning people may ask: What do I need to do to create a world where all can belong? But McBride asserts that instead, we need to ask: Who do I need to become?
Seattle journalist Marcus Harrison Green joins Rev. McBride onstage to discuss how we can navigate the challenging waters of our society together and create a more just and inclusive world.
Rev. Ben McBride is an internationally recognized faith leader, activist, and sought-after speaker who has spoken to large audiences in the U.S., Canada, the United Kingdom, and the Middle East. McBride is the founder of the Empower Initiative, a capacity-building firm devoted to empowering organizations and communities to foster belonging. Previously he served as director of PICO California, the state's largest faith-based community organizing network. McBride was featured in the Sundance Film Festival award-winner The Force, and in 2020 the Center for American Progress listed him as one of the top faith leaders to watch. McBride lives in Oakland, California, with his wife, Gynelle, and their three daughters.
Marcus Harrison Green is a columnist for The Seattle Times. A long-time Seattle native, he is the founder of the South Seattle Emerald, which focuses on telling the stories of South Seattle and its residents.
---
Presented by Town Hall Seattle and the Seattle Office for Civil Rights.