Event Format:
In-Person & Livestream
Town Hall Seattle and SAMA present
Global Rhythms: Bab L'Bluz
Revolutionary French-Moroccan Rock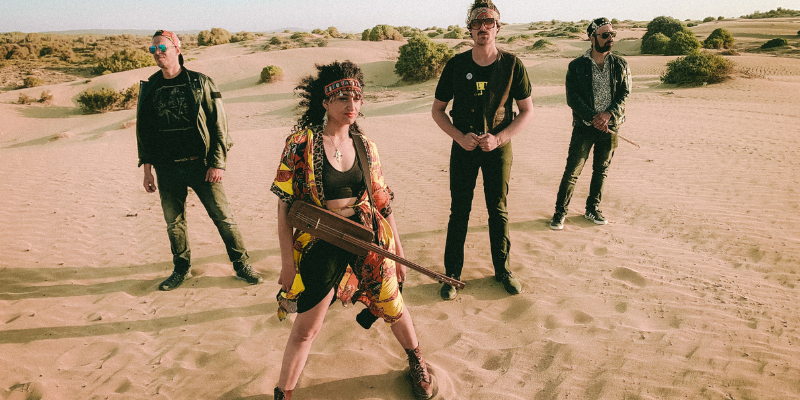 ($20 – $25)
($80 – $100)
Thursday, September 28, 2023, 7:30PM
The Great Hall
1119 Eighth Avenue (enter on Eighth Avenue)
Seattle, WA 98101
This event will also be livestreamed, with playback available for 24 hours.
Prepare to be captivated by the unique fusion of North African blues and contemporary rhythms as the revolutionary band, Bab L' Bluz takes the Great Hall Stage.
Fronted by Yousra Mansour, an African-Moroccan woman in a traditionally male role, Bab L' Bluz is a driving force in reclaiming the blues for North Africa. Their music echoes with the spirit of the Moroccan 'nayda' youth movement, infusing rich local heritage with a modern rebellious attitude.
Experience the ancient and current, the funky and rhythmic, all amplified by Arabic lyrics, soaring vocals, and bass-heavy grooves. Bab L' Bluz's music pulses from the heart of the Maghreb, transcending borders and bringing people together through the universal language of music.
Don't miss this exceptional night of cultural celebration and musical revolution at Town Hall Seattle!
---
---
Global Atmosphere
Pre-Show Food and Beverages starting at 6PM
Before the show, Seattle-based pop-up Mamnoon joins us with flavorful Levantine dishes.  We'll also have specialty drinks (Both alcoholic and non-alcoholic) available at our cafe! Come early, get some dinner, and immerse yourself in the flavors of the culture before the show!
---
Presented by Town Hall Seattle, in association with Seattle Sacred Music & Art. This event is supported by our media sponsor, KEXP.