Art Wolfe and Dr. Samuel Wasser
Preserving Elephants in the Age of Extinction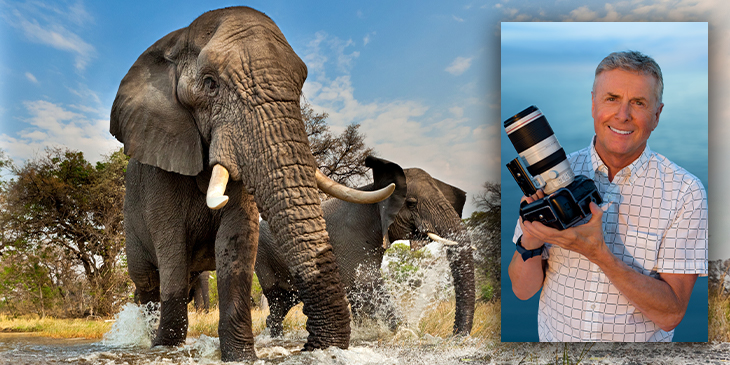 Legendary for their size and intelligence, elephants are one of the most charismatic of megafauna. That they are under siege from poachers is no secret, and the rapidity of their declining numbers is horrifying. However, amidst the steady stream of bad news, photographer Art Wolfe and author Dr. Samuel Wasser offer hope that all is not lost.
Wolfe and Wasser make their way to Town Hall with inspiring accounts from their book Wild Elephants: Conservation in the Age of Extinction. Through stunning visuals and groundbreaking research, Wolfe and Wasser show how global education about these gentle giants seems to be succeeding, and recent government crackdowns are lowering the price of ivory and discouraging poachers. Join Wolfe and Wasser to celebrate local and government initiatives that are rising to preserve the natural heritage of elephant population, and learn what we can do to safeguard the survival of this magnificent species.
Art Wolfe is an award-winning photographer who has worked on every continent and in hundreds of locations over his forty-year career. His stunning images interpret and record the world's fast-disappearing natural treasures.
Dr. Samuel Wasser has participated in conservation programs around the world and is acknowledged worldwide as a pioneer of noninvasive wildlife monitoring methods. He is the director of the Center for Conservation Biology and holds the endowed chair in Conservation Biology at the University of Washington.
---
Presented by Town Hall Seattle.
---
Join us in The OTTO!
Located in the Forum, The OTTO Bar is a great spot to meet with friends before an event or keep the conversation going afterward. You can purchase beer, wine, and non-alcoholic beverages or bring in your own snacks and non-alcoholic drinks to enjoy.
On the night of this event, The OTTO is open from 5:30PM-10:30PM.