Earshot Jazz presents
Anat Cohen Quartetinho
Charismatic Jazz with Brazilian and Israeli Roots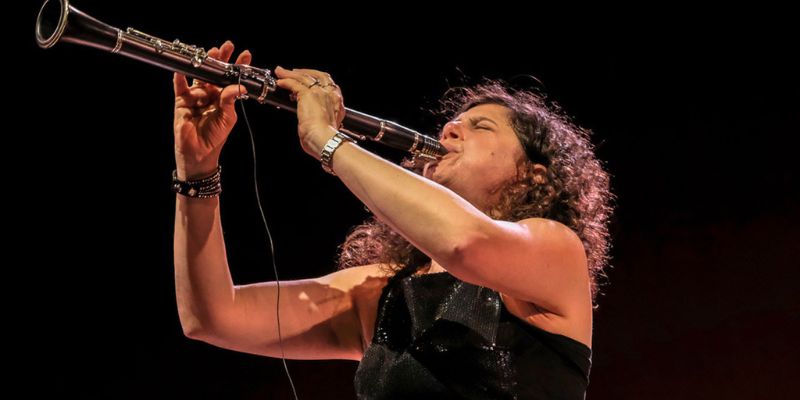 Ever charismatic, prolific and inspired, Grammy-nominated clarinetist and saxophonist Anat Cohen has won hearts and minds from all over the world though with her expressive virtuosity and delightful stage presence. As JazzTimes notes, "With the clarinet she becomes a singer, a dancer, a poet, a mad scientist, laughing 'musically' with the sheer delight of reaching that new place, that new feeling, with each chorus." Known for her enthralling music which draws inspiration from her cultural roots in Israel along with modern and traditional jazz, classical music, Brazilian choro, Argentine tango, and an expansive timeline of Afro-Cuban styles, her music is truly expansive and celebratory.
Anat Cohen debuts a brand new group — the Anat Cohen Quartetinho — featuring Anat (clarinet & bass clarinet), Vitor Gonçalves (accordion & piano), Tal Mashiach (bass & 7-string guitar), and James Shipp (percussion, vibraphone, & electronics). Quartetinho was birthed from her GRAMMY-nominated Tentet (which each musician is also a member of), wh released their highly lauded project Triple Helix in 2019. The members of Quartetinho hail from Israel, the US, and Brazil, and explore a myriad of musical influences, acoustic and electronic sounds.
Vitor Gonçalves is a pianist, accordionist, composer and arranger from Rio de Janeiro, Brazil. After an illustrious career as an in demand musician in Brazil, playing with such icons as Hermeto Pascoal, Maria Bethânia, Itiberê Zwarg, and many others, he made the move to New York City, where he currently resides.
Tal Mashiach is a Grammy nominated multi-instrumentalist, performer and composer based in Brooklyn, New York, combining his skills to create one of the most prominent and original voices in the world and Jazz music scene.
James Shipp is a vibraphonist, a percussionist, a synthesist, and a songwriter. For the last decade-and-a-half he has performed, recorded, and toured the world with some of New York City's best musicians.
About Earshot Jazz
Earshot Jazz cultivates a vibrant jazz community to ensure the legacy and progression of the art form by engaging audiences, celebrating artists, and supporting arts education.
Earshot Jazz COVID-19 Policy: Earshot recommends that all ticket holders be vaccinated. Masks are strongly encouraged unless actively eating or drinking. Policy subject to change. Full policy here.
---
This event is presented by Earshot Jazz. If you have questions about the event, please contact them directly at info@earshot.org or call (206) 547-6763.