Anastacia-Reneé with Quenton Baker
Black Culture Through a Feminist Lens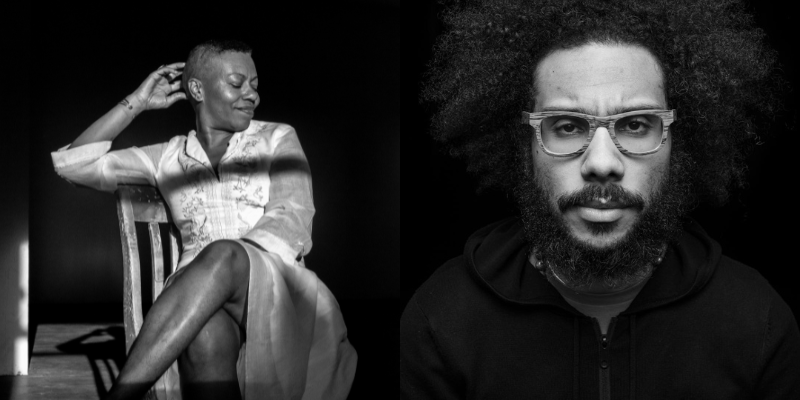 Side Notes from the Archivist is a preservation of Black culture viewed through a feminist lens. The Archivist leads readers through poems that epitomize youthful renditions of a Black girl coming of age in Philadelphia's pre-funk '80s; episodic adventures of "the Black Girl" whose life is depicted through the white gaze; and selections of verse evincing affection for self and testimony to the magnificence within Black femme culture at-large.
In her uniquely embracing and experimental style, Anastacia-Reneé documents and celebrates diverse subjects, from Solid Gold to halal hotdogs; as homages and reflections on iconic images, from Marsha P. Johnson to Aunt Jemima; and as critiques of systemic oppression forcing some to countdown their last heartbeat.
Anastacia-Reneé (she/they) is a queer, hybrid writer, educator, retro-flector, artist, speaker, and podcaster. She is the author of Side Notes from the Archivist (2023) and Forget It (2017), and they were selected by NBC News as part of the list of "Queer Artists of Color Dominate 2021's Must See LGBTQ Art Shows." She was a former Seattle Civic Poet (2017-2019), Hugo House Poet-in-Residence (2015-2017) Jack Straw Curator, and Arc Artist Fellow (2020). Her work has been anthologized in Teaching Black: The Craft of Teaching on Black Life and Literature; Home is Where You Queer Your Heart; Furious Flower: Seeding the Future of African American Poetry; Afrofuturism: Black Comics and Superhero Poetry, and many others. Their work has appeared in Hobart, Foglifter, Auburn Avenue, Catapult, Alta, Torch, Poetry Northwest, A-Line, Cascadia Magazine, Hennepin Review, Split this Rock, Ms. Magazine, and others. Reneé has received fellowships and residencies from Cave Canem, Hedgebrook, VONA, Ragdale, Mineral School, and The New Orleans Writers Residency.
Quenton Baker is a poet, educator, and Cave Canem fellow. Their current focus is black interiority and the afterlife of slavery. Their work has appeared in The Offing, Jubilat, Vinyl, The Rumpus, and elsewhere. They are a two-time Pushcart Prize nominee and the recipient of the 2018 Arts Innovator Award from Artist Trust. They were a 2019 Robert Rauschenberg Artist in Residence and a 2021 NEA Fellow. They are the author of we pilot the blood (2021) and ballast (2023).
---
Presented by Town Hall Seattle. This event is sponsored by The Boeing Company.