Town Hall Seattle and Grist present
Afterglow
Envisioning a Radically Different Climate Future
Could the power of story-telling help create a better reality? 
Afterglow is a stunning collection of original short stories in which writers from many different backgrounds envision a radically different climate future. Published in collaboration with Grist, a nonprofit media organization dedicated to telling stories of climate solutions, these stirring tales expand our ability to imagine a better world.
Afterglow draws inspiration from a range of cutting-edge literary movements including Afrofuturism, hope-punk, and solar-punk—genres that uplift equitable climate solutions and continued service to one's community, even in the face of despair. The Indigenous, Latinx, Asian, disabled, feminist, and queer voices in this collection imagine intersectional worlds in which no community is left behind. Whether through abundance or adaptation, reform, or a new understanding of survival, these stories offer flickers of hope, even joy, as they provide a springboard for exploring how fiction can help create a better reality.
Panelists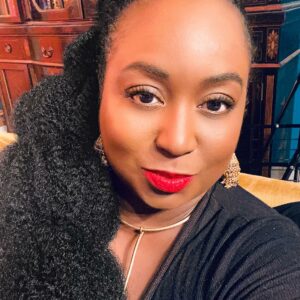 Sheree Renée Thomas is a New York Times bestselling, two-time World Fantasy Award-winning author and editor. A 2023 Octavia E. Butler Award honoree and a 2022 Hugo Award Finalist, she is the author of Nine Bar Blues: Stories from an Ancient Future, a Locus, Ignyte, and World Fantasy Finalist, Marvel's Black Panther: Panther's Rage novel, and she collaborated with Janelle Monáe on "Timebox Altar(ed)" in The Memory Librarian and Other Stories of Dirty Computer. She co-edited Africa Risen: A New Era of Speculative Fiction, a NAACP Image Award Nominee, and is the Editor of The Magazine of Fantasy & Science Fiction. Sheree lives in her hometown, Memphis, Tennessee, near a mighty river and a pyramid.
Justine Norton-Kertson is a genderfluid author of stories and poems as well as a screenwriter, game maker, musician, and community organizer. They're the founder and Editor-in-Chief of Android Press and Solarpunk Magazine. They've been published in magazines such as Utopia Science Fiction and Jupiter Review. Their anthologist debut, Bioluminescent: A Lunarpunk Anthology, was published in January 2023 from Android Press. And their debut nonfiction book, Solarpunk Witchcraft, is forthcoming from Microcosm Publishing in 2024. They live in rural Oregon with their partner, puppies, cats, goats, bunnies, and beehives. Find them at http://justinenortonkertson.com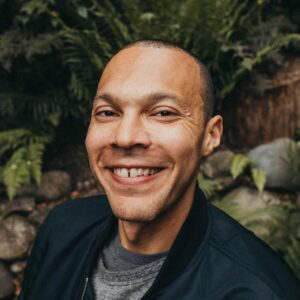 Andrew Simon is a writer and editor living in Seattle. Simon has been an editorial leader at award-winning media organizations including Grist, Fast Company, ESPN, and Complex Media. He's launched a journalism fellowship, the annual Grist 50 list, and a podcast, among other projects. He currently works on thought leadership and business solutions. He is co-author of the book 'Racing While Black: How an African-American Stock Car Team Made Its Mark on NASCAR.'
Tory Stephens creates opportunities that transform organizations and shift culture. He is a resource generator and community builder for social justice issues, people, and movements. He currently works at Grist Magazine as their climate fiction creative manager and uses storytelling to champion climate justice, and imagine green, clean, and just futures. In another life, he owned a kick-butt streetwear company, and he would have gotten away with eating the last cookie too if it weren't for his three meddling kids.
Grist is a nonprofit, independent media organization dedicated to telling stories of climate solutions and a just future. Its goal is to use the power of storytelling to illuminate the way toward a better world, inspire millions of people to walk that path with us, and show that the time for action is now.
---
Presented by Town Hall Seattle and Grist.