Cutting-edge chamber music featuring local and international artists and ensembles.
Series Artistic Director: Joshua Roman
$20 General Admission/$15 Town Hall Members/FREE for Youth 22 & Under
Series Lineup
The 2021-22 Town Music series will be Series Artistic Director Joshua Roman's last. This season, titled "In The Room," celebrates everything that Town Music has been and what it has become.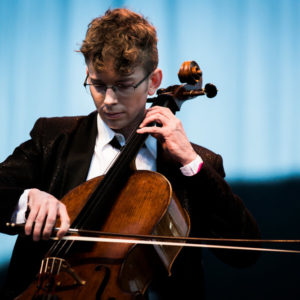 Joshua Roman, Series Artistic Director
It is with equal parts gratitude and sadness that we announce Joshua Roman's final season as artistic director of Town Music. We're grateful for Joshua's past and present leadership — there's no one better suited to usher us from one extraordinary era of Town Music to the next.
Joshua Roman has earned an international reputation for his wide-ranging repertoire and his commitment to communicating the essence of music in visionary ways. As well as being a celebrated performer, he is recognized as an accomplished composer and curator. Before embarking on a solo career, Roman spent two seasons as principal cellist of the Seattle Symphony, a position he won in 2006 at the age of 22. Since that time he has appeared as a soloist with symphony orchestras in San Francisco, Seattle, Los Angeles, Scotland, Moscow, and many others.
While Roman leapt in short order from undergraduate at the Cleveland Institute of Music to principal cello of the Seattle Symphony to soloist with major orchestras around the globe, his childhood ambition to compose his own music lay dormant. A series of multimedia collaborations starting in 2013 nudged Roman to go beyond improvising on the cello and to start committing music to paper, and since then he has embraced composing as a key facet of his musical expression. His major works to date include a cello concerto, Awakening, and a large song cycle, we do it to one another.
Join the Town Music Leadership Fund
$1,000 Aficionado Subscription
Complimentary subscription for two to Town Music season
Post-event receptions and champagne toasts with artists
Commemorative season gift
Acknowledgement as part of Town Music Leadership Fund on printed concert programs
Town Hall Seattle Town Founder membership
$2,500 Director Subscription
All benefits from above, plus…
Recognition as a sponsor of one Town Music concert this season
Invitation to special Town Music supporters dinner with Joshua Roman
$5,000 Presenter Subscription
All benefits listed above, plus…
Recognition as a commission for a new work included in the series
$10,000 Commissioner Subscription
All benefits listed above, plus…
Dinner after a Town Music concert this season with Artistic Director Joshua Roman and Executive Director Wier Harman
---
You can donate online here or get in touch with Advancement Director, Kate Nagle-Caraluzzo, kate@townhallseattle.org
Town Music Series Sponsors
---
Town Music Leadership Fund