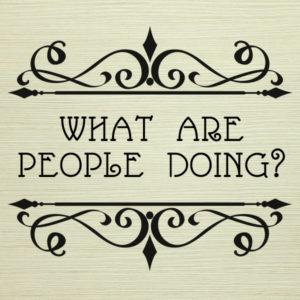 Every week the Town Crier blog will look back at Seattle's near forgotten
Town Crier
magazine to see what was happening then and talk about what's happening now. One of the largest sections of the original Town Crier was "What People Are Doing," highlighting things like,
"The Army and Navy Club was the center of much gayety on Thanksgiving day, the decorations suitable for the occasion," and, "Mr. Bissett is one of the living authorities on Lincolniana and his library of 1886 volumes and pamphlets is sixth in importance in existence."
 In this new series we're revisiting the old column and tying it to our community's current happenings, asking: "what
are
people doing?"
Today's entry…
With the holiday season comes children with eyes of wonder and glee, looking towards the skies for Santa and his reindeer, or looking under the hearth for festooned holiday packages. In the November 30, 1918 edition of the Town Crier, there was an ad put out by the Grote-Rankin Company. They suggested parents get wheel toys for their children. "To those who are going to buy practical toys for the children, this announcement is but an introduction to the comprehensive stocks of wheel toys that we have assembled for your inspection." Among the wheel toys, "moderately priced," they assembled included automobiles, hand cars, coaster wagons, velocipedes, choo-choo cars, Sam-E-Cars, doll cabs, and more. "The assortments afford countless opportunities to make the little folks happy."
The holiday season at Town Hall affords opportunities for today's little folks to be happy, too. Coming December 8th and 9th is Seattle's beloved kiddy rocker, Caspar Babypants. Caspar—aka Chris Ballew, the former lead singer of the '90s rock band, The Presidents of the United States of America—will be playing plenty of catchy tunes, including many off his new album, Keep It Real!.
Performances on December 8th will be at Bloedel Hall at St. Mark's Cathedral. Performances on December 9th will be at West Seattle's Westside School. Learn more about the concerts (FREE FOR KIDS) here! Interested in reading an interview we did with Caspar? Go here!